Company Objective
Our commitment is to offer the latest in golf technology at affordable prices. The products we sell are designed and manufactured to high quality standards, without needless advertising campaigns and professional endorsements. Our direct to the customer business model saves time, money and allows a high degree of customization. GigaGolf sells equipment that incorporate the very latest in golf club technology. The heads are made in many of the same foundries that make heads for nationally advertised, tour player endorsed brands. Shafts are specified to be premium quality made for GigaGolf clubs by only the best shaft manufacturers. By keeping our attention to quality high and our spending on advertising and distribution low, we are able to offer golf equipment at an unparalleled value.
eFit for You
Yes, it is that easy. Our proprietary eFit system allows our customers to virtually build his or her clubs online according their physical measurements and playing style. The eFit system is a simple 5 step process that takes most customers less than 5 minutes to complete. But the results on the course can be dramatic as custom clubs make the game easier and more enjoyable to play. Regardless of whether you are a beginning golfer or a seasoned player looking for an edge, the GigaGolf eFit system can help you post lower scores.
We Play Golf Too
We are golfers serving golfers. GigaGolf's customer service staff and many of the club making personnel are dedicated golfers that share a mutual passion for the sport. Yes, most of us have to work to make a living. But if you ask us, we would rather be here talking about golf and making golf clubs. If you need a hand putting a set together or you just want to tell us about your most recent achievement on the course, give us a call. Trained club fitting experts are also available at our customer service number. (1-800-724-3085, Hours M-F 8:30 am - 5 pm Est.)
Order Pick-up and Showroom
GigaGolf is conveniently located between Tampa and St Pete. Our showroom gives golfers the opportunity to view the equipment in person before deciding to buy. But remember, the GigaGolf 30 day play guarantee does the same thing for customers that cannot visit our showroom to see the quality we offer. Showroom hours are 10am to 4pm EST Monday through Friday.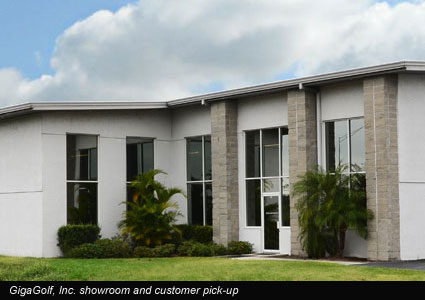 GigaGolf Inc.
Showroom and Customer Pick-up
301B Mears Blvd
Oldsmar, FL 34677
800.724.3085